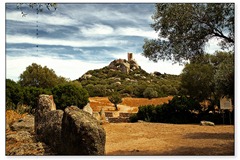 Olbia is a town located on the island of Sardinia, in Italy, in the sub-region of Gallura. It has a total population of 54,000 people. During the Roman age the name was Olbia, while in the Middle Ages it was changed to Civita. Before the 40's the name was Terranova Pausania and it was changed back to Olbia after the Fascism period was over.
Olbia is the economic centre of Sardinia (thanks to the food industry and the commercial centres) and it's also near the tourist area called Costa Smeralda. Olbia is also the capital of the Olbia-Tempio region since 2005.
Olbia was founded by the Greeks as the local legend says, so it has very old origins. You will find ruins here from Carthaginian and Phoenician eras, and also from the Roman Empire and from the Middle Ages. During the Middle Ages, Olbia was part of an independent state located on Sardinia, called Giudicato of Galluro. It was actually the capital of this state. If you visit Olbia, you shouldn't miss the San Simplicio cathedral, built during the 11th century, in a Romanesque style.
In the transportation department, Olbia connects the Italian peninsula with Sardinia, it has a passenger port called Olbia-Isola Bianca, a railway that goes from Cagliari to Porto Torres and an airport called Olbia – Costa Smeralda. You will find here expressways between Cagliari and Nuoro, plus the national roads which go to Tempio Pausania, Palau and Sassari. You can get to Olbia via a cruise ship or a ferry, from Naples or from Civitabecchia, since the town has a ferry port.
If you want to eat, you should go to Ristorante Gallura, considered one of the great Italian restaurants, one of the best in the world. The chef of the restaurant was there since the 1940's.
Photo credit: Effepunto on Flickr